Cooler Master MM711 LITE Gaming Mouse
Cooler Master MM711 LITE Gaming Mouse ,The base version of our MM711, the LITE gives you so much more for less, with the same lightweight features: a honeycomb shell design and innovative braided cable to keep the mouse under 60g.
The result is quicker movements, minimal fatigue, and less pain associated with repetitive stress injury.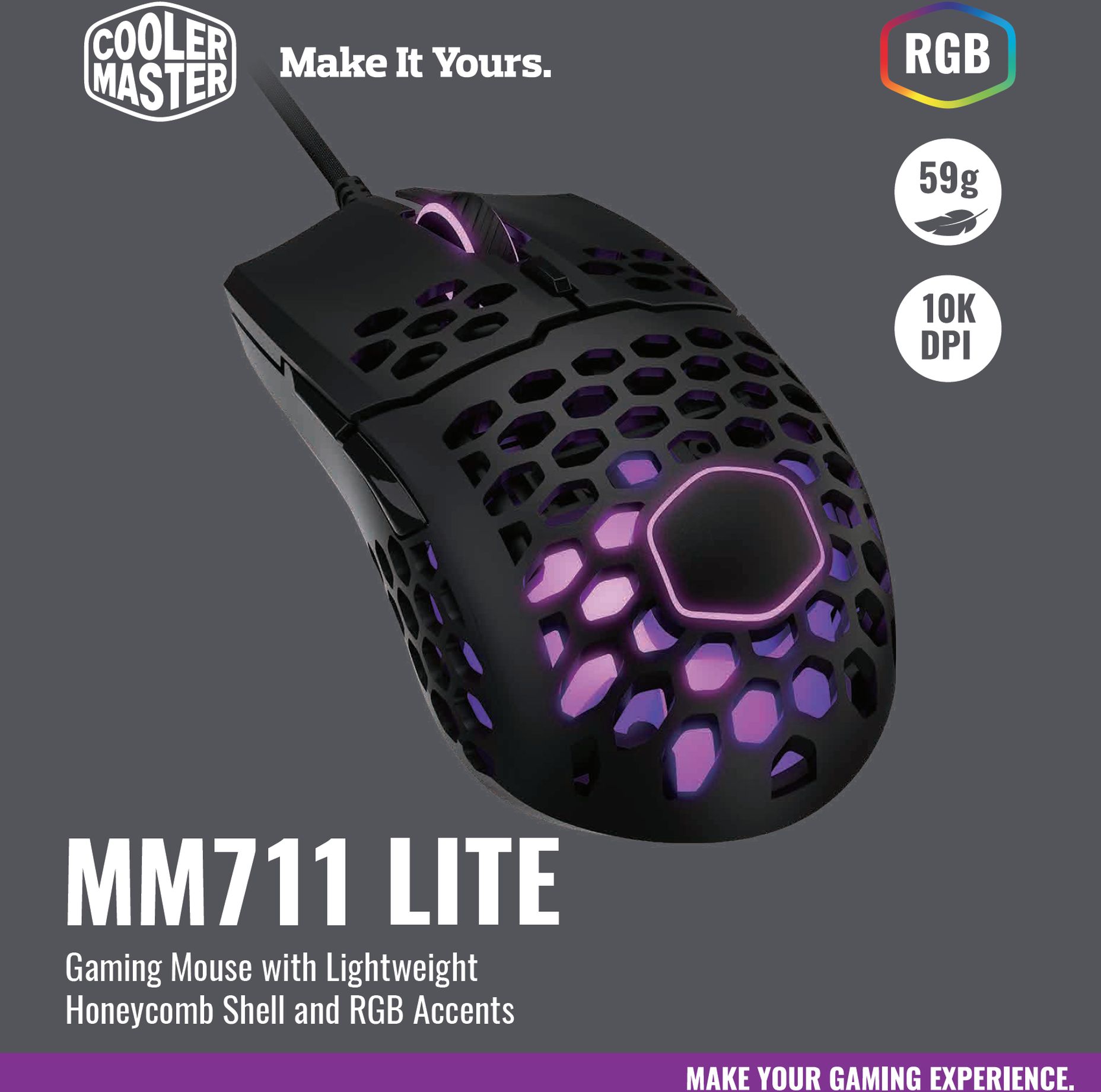 LOSE WEIGHT WITHOUT THE GIMMICKS
New perforated housing is engineered to be supremely durable and lightweight, meaning you can play longer without fatigue.
DESIGNED FOR COMFORT AND IMPROVED PERFORMANCE
An ambidextrous shape for righthanders with two side buttons.
A GAMING-GRADE OPTICAL SENSOR FOR PRO-GRADE GAMING
GLIDE LIKE A PRO SKATER WITH PTFE FEET
New-and-improved feet made with PTFE material for low friction and high durability, which provides a smooth, fast glide with maximum responsiveness.
Specifications:
PRODUCT NUMBER MM-711-KKOL3
MOUSE GRIP TYPE CLAW, PALM, FINGERTIP
MOUSE MATERIAL ABS PLASTIC
MOUSE FEET PTFE
MOUSE COLOR BLACK
SURFACE TREATMENT MATTE FINISH
MOUSE LEDS YES, RGB ON WHEEL AND LOGO
MOUSE SENSOR PIXART OPTICAL SENSOR
CPI / DPI 7 LEVELS, 400(YELLOW) – 800(BLUE) – 1200(PURPLE/DEFAULT) – 1600(GREEN) – 3200(CYAN) – 6400(ORANGE) – 10000(RED)
MOUSE TRACKING SPEED 100 IPS
MOUSE LIFT OFF DISTANCE < ~2MM
MOUSE POLLING RATE 1000HZ
ANGLE SNAPPING YES
MOUSE ACCELERATION 20G
MOUSE LIFESPAN (L/R SWITCHES) MECHANICAL MICRO SWITCH, 60M
MOUSE BUTTONS 6
SOFTWARE SUPPORT N/A
MOUSE CABLE LENGTH FIXED BRAIDED CABLE, 1.8M
DIMENSIONS (L X W X H) 116.5 X 62.4 X 38.3 MM / 4.59 × 2.46 × 1.51 INCH
MOUSE WEIGHT 59 G / 0.13 LBS (WITHOUT USB CABLE)
WARRANTY 2 YEARS
PRODUCT MICE